Herff College Career Fair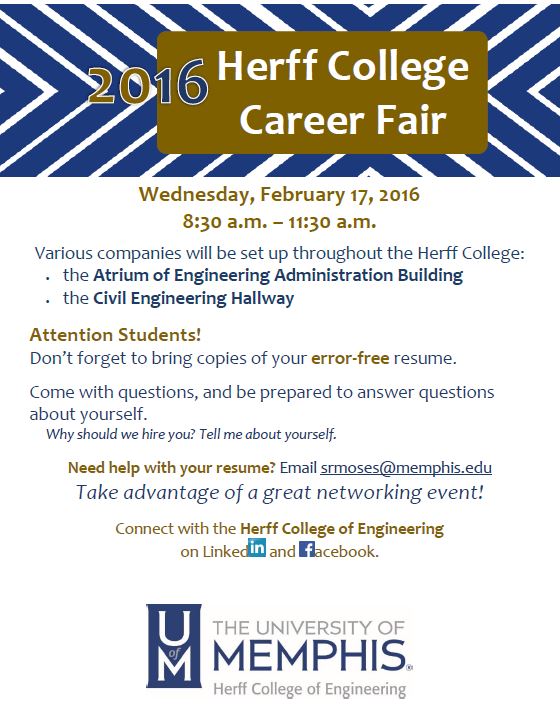 ---
Herff College Tutoring Center
Need help with a class and do not know where to turn? Try the Engineering Tutoring Center. Tutoring takes place in the Dean's Conference room (EA 202C) and is free to Herff College Students. For the schedule, click on the button below:


---
Free Microsoft Software!
The University of Memphis has joined Microsoft's "Student Advantage Program". Students, Faculty and Staff can now obtain the Office suite for their personal devices free of charge. This includes all desktops and mobile devices ( Windows, Mac, iOS, Android).

The program includes free access to Microsoft's OneDrive (cloud storage) with a quota of 1 TB.

Please go to http://Memphis.edu/getoffice and logon using your credentials to install the software.

Need something else

The University of Memphis is also participating in Microsoft DreamSpark. This gives you access to Microsoft Windows Operating Systems (10, 8.1, 8, 7) as well as other programs such as Visual Studio, Project and Visio. Go to DreamSpark HERE and select "DreamSpark for Academic Institutions - Access your subscription - Learn More" and type in "University of Memphis" into the search.


---
Senior Project Equipment
Do you know what you want to do for senior projects but don't have the equipment or money to buy it? I have acquired many items over the years that can be used for EETH and CETH senior projects (see link below).

I also have a number of computers that can be used by students for senior projects in ET227a for your use in case you need software not installed on the image in the computer labs, or you need Linux or another OS.


---